I have tried light/phototherapy, Humira, Enbrel, and Cosentyx for Plaque Psoriasis… – Myduyen Ngo shares her story
We asked Myduyen 18 questions to find out how she manages her Severe Plaque Psoriasis
"No mud, no lotus." It is such an important concept for me to live by, and I'd like to share it with others. Suffering/pain is the mud and lotus is you, yourself. Without mud, lotus can't grow and glow. Therefore, whenever you face suffering in your life, just smile, and see it as an opportunity for you to raise and embrace. Once you understand the concept you will accept any challenges in your life with a more positive mindset. Keep in mind that this life is uncertain, so, love deeply, give generously, and accept instead of expecting". Myduyen Ngo
Please tell us about yourself?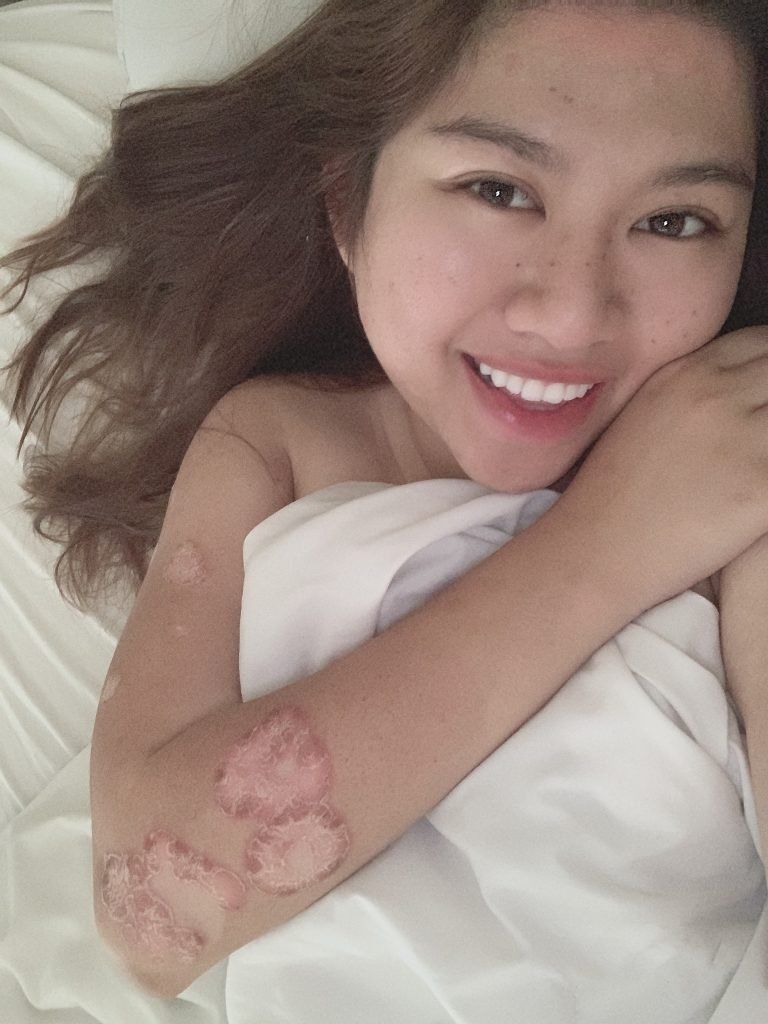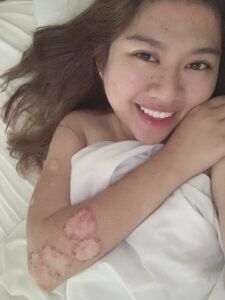 Hello! My name is Myduyen Ngo from Vietnam, a full-time student at CSU San Marcos, majoring in Sociology in health, education, and welfare. I am a food enthusiast and a seeker for inner beauty and compassion.
What type of psoriasis are you diagnosed with?
I was diagnosed with plaque psoriasis when I was 14 years old.
Since how many years?
It has been 10 years since
As per your diagnosis, how severe was it and which areas of your body were affected?
It affects my arms, legs, scalp, face, back, and chest. I was diagnosed with a severe case of plaque psoriasis. It covered up to 80% of my body.
How did you first find out?
In the beginning, I just had it on my scalp. I just thought it was dandruff, so I used an anti-dandruff shampoo to treat it. Nothing seems to be working at the time and it started to bother me so much, so, I asked my mom to take a look to see what was going on, and she saw open bleeding cracks all over my scalp. We went to see a doctor, and he transferred my case to the dermatology specialist. My condition got worse and worse. It spread so fast throughout my whole body.
How did you feel about it at the time?
I felt completely ruined, horrified, and in despair. As a teenager, I didn't know how to face and cope with the situation. It brought the worst out of me.
How did it affect your lifestyle?
It affected me in many aspects of life. I felt like I needed to hide all the time. I limited myself from so many activities that I enjoyed, and clothes that I liked to wear. Summer and winter were the same for me because I covered up from head to toe. I felt tired all the time because of irritating and burning pain, itching, cramping, bleeding, etc. and couldn't get a good night sleep because of the skin pain.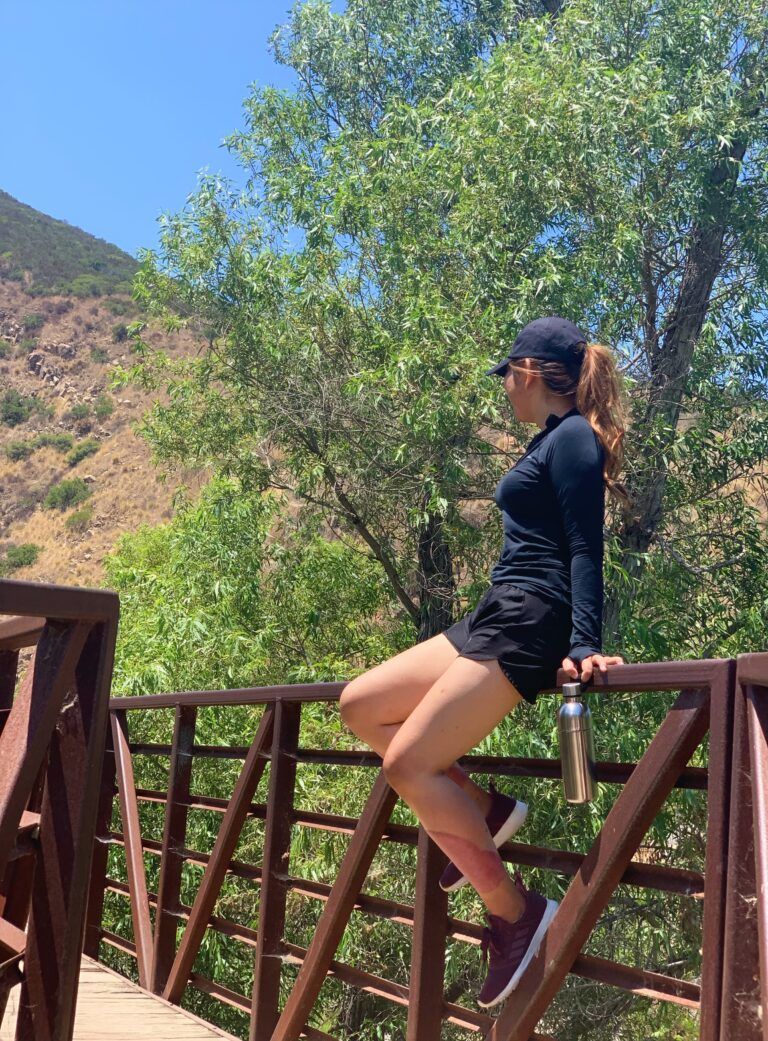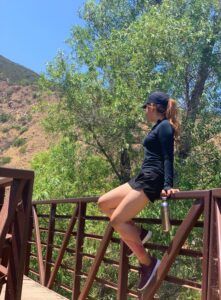 How is the climate in the region you live in and how does it affect your Psoriasis?
In terms of climate, dry, cold, and hot weather trigger my psoriasis the most. However, I saw some improvement when I was in humid regions.
How did you overcome the fear and stress of being affected?
In order to overcome the fear and stress of being affected, I had to go through a lot of criticizing and judgment from other people. I must learn how to transform those negatives to positives thoughts by choosing to love myself regardless and forgive those people for they do not know what I'm going through.
How do you feel now?
I feel happier and more empowered than I have ever been in the last 10 years, and of course, there are days and moments I feel hopeless and destroyed but I let myself be vulnerable and accept the negative feeling because without them I wouldn't know what happiness and positivity feel like. I must say self-acceptance is one of the hardest aspects of coping to learn, it teaches me how to value and love myself. I am now more in tune with my overall life and well-being. I believe that without psoriasis I wouldn't be able to become someone who has the ability to have compassion, love, and understanding. I am grateful for what it has taught me.
What triggers your psoriasis flare-ups?
As far as I know what triggers flare-ups are stress, dry/cold/hot weather, trauma to the skin such as cuts from shaving, insect bites, etc, and perhaps diet. I am currently trying to choose my food wisely and replace unhealthy foods with healthier alternatives. I cut down my sugar intake for example, I used to get milk tea every day, now I cut it down to 2-3 times a week and order 30% sugar instead of full sugar. I replace white rice with cauliflower rice. One step at a time!
What medications have you tried and what helped you and what didn't? Did you have a "totally cleared" remission period and for how long?
I have tried light/phototherapy, Humira, Enbrel, and Cosentyx.
Light/phototherapy worked good for a little while but the UV rays burned my healthy skin so we stopped the treatment and moved on to Humira.
Humira didn't help at all but had few side effects such as extreme fatigue, mild lymphoma is swollen, and worsen symptoms. Enbrel worked and helped my skin clear up for a little while but the result did not last long. Cosentyx worked the best for me. My condition went into remission for almost two years. However, my immune system got used to Cosentyx, and it is currently not responding to medicine; therefore, the plaques are coming back. They spread faster than before.
What home remedies have you tried and what works best for you?
Other than staying moisturized all the time and drink a lot of water. I can't think of anything else that has helped me relief.
FYI: I used raw organic shea butter to moisturize.
What helps you the most to stay stress-free and to stay motivated?
What helps me the most to stay stress-free and stay motivated are:
Focus on what I can control

Practice mindfulness

Laugh a lot

Accept hard times

Spend time with loved ones

Develop new interests and hobbies
When times get rough, those things are hard to keep me staying stress-free and motivated but I make sure to keep in mind that it is fine to feel that way but don't let it make me become that way. And when I feel like there is nothing left for me, I need to remember that I am still alive and I am grateful for each breath I am taking. As long as I am still alive, anything is possible.
What is your daily routine like?
Someone told me, "it takes a day to break a habit." Since then I am more aware of what my daily routine is really like. I realized that it was a mess. I went to bed late, around 1 am sometime later than 1. I also woke up late at noon. I decided to change it up yet still lenient for myself to not feel the pressure. Recently, I would go to bed no later than 12 am but my goal is to be asleep by 11 pm. I also make time to exercise or just simply be more active. Most importantly is meditation. I have practiced meditation before bed for a long time. Only 20-30 minutes every night to return to and remain in the present moment.
What is your advice to those who are newly diagnosed?
My advice to those who are newly diagnosed is to take care of your mental health first because nothing destroys you more than your thoughts. You must know that you are not alone! This is a lifelong journey. You have to learn to love and accept yourself which is really hard but the sooner you accept it, the faster it will help you live a normal and better life. You don't have to hide. You don't have to shy away. You can start, get to know, and build connections with others. Talk openly about your condition and how you feel. Don't limit yourself to do things you love. Don't be afraid of letting go people who don't see and love you as who you are because it is better for you to be alone than to be with people who don't value you.
Stay hydrated. Use natural/organic products. When it itches, try not to scratch it hard. More importantly, whenever things get tough, tell yourself it is ok to feel bad of it because, without the bad, the good can't come. When your mental health is strong enough. You know what is good to do for your physical health. Never stop trying and never stop loving, especially love yourself.
What would you say to those who have someone close to them diagnosed with psoriasis?
If you know/have someone in your life with psoriasis please be open-minded about it, make them feel loved and feel comfortable around you. Sometimes the most meaningful thing you can do for them is just to be there and encourage them. But if you approach them out of curiosity without any tender love and care, you shouldn't be in their lives. To leave them is the best thing you can do for them.
What is Myduyen's motto in life?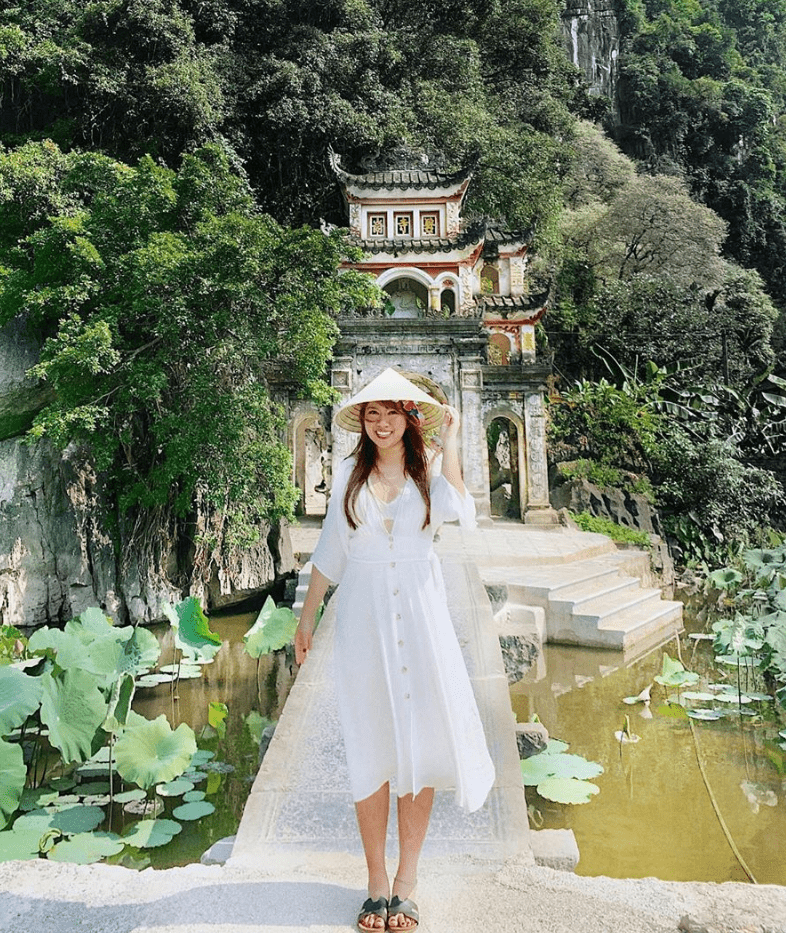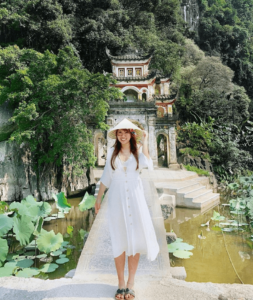 "No mud, no lotus." It is such an important concept for me to live by, and I'd like to share it with others. Suffering/pain is the mud and lotus is you, yourself. Without mud, lotus can't grow and glow. Therefore, whenever you face suffering in your life, just smile, and see it as an opportunity for you to raise and embrace. Once you understand the concept you will accept any challenges in your life with a more positive mindset. Keep in mind that this life is uncertain, so, love deeply, give generously, and accept instead of expecting.
Myduyen Ngo
Feel free to ask questions and give her support in the comment section below!
Find out more about Myduyen here @MyduyenNgo and check out her Instagram account @foodieofsd