Happy Psoriasis Awareness Month!
Hi Aprilynn, Please tell us little bit about yourself.
I am Aprilynn. I'm Cambodian (first gen American). I go to school as a microbiology major with a nutrition minor. I also plan to go to grad school for eastern medicine afterward.
When were you Diagnosed with Psoriasis?
I had scalp psoriasis when I was 16 years old, but it didn't start spreading onto my body until my early 20s
What do you think caused it?
I've read a few articles that trauma on the body can trigger the genetic switch to turn on your psoriasis. I've had a tough upbringing, so I can only assume trauma from that was what triggered it.
What Foods do you Avoid?
I don't actually eat heavy in meats, but I do notice when I stress, I intake way more meat. I eat more plant-based, but that's due to preference. I love veggies with a small side of meat.
What Foods do you Eat to Heal?
When I'm extremely flared up, I actually go completely plant-based for two weeks, I drink my celery juice and eat my ginger! I've also been obsessed with dishes that have turmeric noodles!
Do you avoid gluten, and what do you think about Gluten sensitivity in Psoriasis?
I believe there is a possible link as I've read a few science articles, but I also believe each body is different, and we shouldn't be too absorbed on how others have reacted to it but pay more attention to how you, yourself react to different foods. That's the only way you're going to really understand your psoriasis.
Let's talk Psoriasis friendly Breakfast
I work graveyards, so my circadian rhythm is completely off to everyone else's. Also I intermittent fasting unintentionally, which I've found super beneficial in keeping the balance of my gut biome. So I typically eat at night while I'm at work. I suggest having a light breakfast. I'm a big supporter of good gut health for healing, so I'm gonna tell you to eat more foods with probiotics. A Greek yogurt bowl won't hurt you!
Name your top 3 Psoriasis Triggers
Lack of sleep.
Stress.
Anxiety.
I've said this so many times to people, but "if you focus on healing internally first, the external follows." Your brain is your powerhouse and if you're mentally not in the right place, your body will naturally not be either. Focus on what's stressing you and destress from them (one stressor at a time of course).
What would you tell those who are newly diagnosed with Psoriasis and looking for answers?
Be open, be brave, be confident. There are surprisingly so many others who relate to you. And what we need most to help with healing is being around others who understand and can guide you through the experience of living with being beautifully spotted.
Aprilynn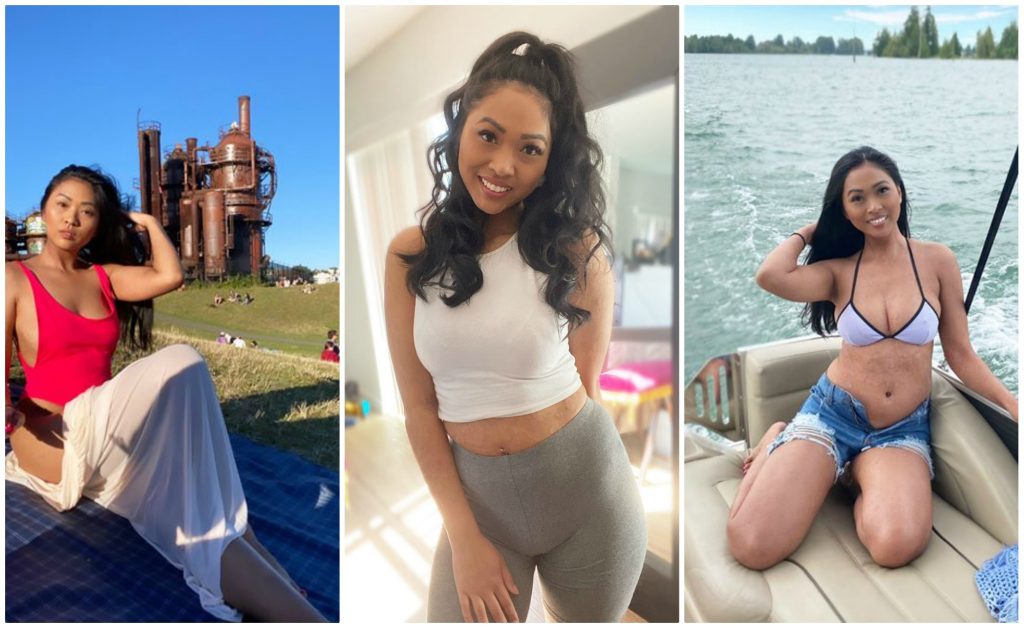 Find out more about Gaby and her Journey via her Instagram account @aprilynn.an