Why deep-fried foods trigger Psoriasis Flare-ups and what you can do about it.
You might have noticed psoriasis flare-up and itching after eating deep-fried foods. Deep-fried foods can induce gut inflammation and trigger Psoriasis Flares and have a negative effect not only on psoriasis but on all the other underlying health conditions you may have.
Deep-fried foods have long been known to have so many disadvantages and Studies show that regular consumption of deep-fried foods linked to all kinds of health problems such as:
Hepatic Damage and Liver problems [2]
Chronic Stress and Depression [9]
Autoimmune Conditions [10]
As we can see, all of the above are the health conditions that are often linked to Psoriasis. Especially; Stress, thyroid problems, liver problems, leaky gut, digestive and gallbladder problems [11] are common in Psoriasis patients, and psoriasis is an Autoimmune disorder.
---
What makes Deep-Fried foods so bad for Health?
Deep-Fried Foods are typically high in trans fats, calories, and salt.
Trans fatty acids are NOT essential and provide NO known benefit to human health. Opposite eating Trans fats regularly can raise your LDL cholesterol which is the bad cholesterol.
When we deep-fry foods, oil is heated to very high temperatures and the chemical structure of fats changes and trans fat content increase. And, Processed vegetable or seed oils may contain trans fats even prior to heating.[12]
Deep-fried foods are also high in calories. Oil absorption can be up to 25% of the food's weight, of course, depending on the temperature and the food being fried but one thing for sure, you consume a high amount of oil with deep-fried foods.
On top, you have the coating, whether its a batter coating or flour, starch or breadcrumbs etc. all of them add more calories.
---
Should you avoid Deep-Fried Foods completely if you have Psoriasis?
Try to avoid Deep-Fried foods altogether, because Deep-Fried Foods induce further inflammation to the gut and trigger Psoriasis Flares. Avoiding all inflammatory foods is the most important to step to healing Psoriasis.
If you are ready to start healing, restore your gut health and achieve remission, consider eliminating all kinds of deep-fried foods and try your best to focus on light and easy to digest foods and healthy oils and fats.
---
What are alternative cooking methods to Deep-Frying?
A healthier cooking alternative to deep-frying could be grilling. Although researchers say grilling also has health risks, it is still a better way to cook than deep-frying. When grilling, meat fats drip-off and therefore grilled meats will have a reduced fat content and lower calories than deep-fried foods.
Other healthier cooking methods to Deep-Frying are; Baking and Roasting. Just like in Grilling, when you bake or roast, you can avoid frying oils' harmful effects.
Avoid overcooking foods because the longer a food is cooked, the greater the loss of nutrients. Especially water-soluble vitamins maybe lost during the cooking process.
---
Can you fry foods at all if you have Psoriasis?
You can lightly stir fry foods but with healthy oils and fats.
Our body uses healthy fats as fuel, heart gallbladder and intestines need healthy fats to function well, so healthy fats and oils are essential to Human Health and especially to those with Psoriasis.
Healthy fats help support cell growth, keeps cholesterol and blood pressure under control, and helps the body absorb vital nutrients.
---
What are the best cooking methods for Psoriasis management?
Steaming and Sautéing with healthy oils is the best method when it comes to healthy food preparation because the food can retain more nutrients in the cooking process, whereas boiling is the best way to make delicious and highly nutritious soups.
---
Which cooking oils are the healthiest?
Monounsaturated fats and Polyunsaturated fats (including Omega-3 fatty acids) are referred to as healthy oils/fats.
While trans fats and saturated fats such as animal fats considered as unhealthy.
However, while trans fats are unhealthy indeed, dividing other fats by saturation is not the way to choose oils and not all saturated fats are harmful and not all monosaturated and polyunsaturated fats are really healthy.
There is so much to oils than just saturation. (saturated oils go solid at room temperatures.)
For example;
Coconut oil is saturated fat, however, it instantly melts when it touches your skin and has been the oil of choice for Psoriasis patients because of its proven health benefits.
Sunflower oil, on the other hand, is primarily composed of linoleic acid, a polyunsaturated fat, and oleic acid, monounsaturated fat and is unsaturated fat, however, it contains a lot of omega-6 fatty acids. The body needs them, but omega-6s are thought to be pro-inflammatory, and sunflower oil has been shown to release toxic compounds when heated to higher temperatures over time.[13]
So how do we choose oils? The best way to choose oils is to look at the processing and refining of oils and GMO status.
For example;
Some oils like soybean, canola, corn and cottonseed oil are usually genetically modified. Some of them contain transfats even before heating which makes them the worst choice for health. These oils might not make a huge difference for healthy people; however, they might induce further inflammation for autoimmune disorders.
On the other hand, unrefined oils like olive oil, coconut oil and avocado oil are not genetically modified and are a better choice for people with autoimmune disorders.
Here are the top 3 oils to consider for healthier cooking.
1) Extra Virgin Olive oil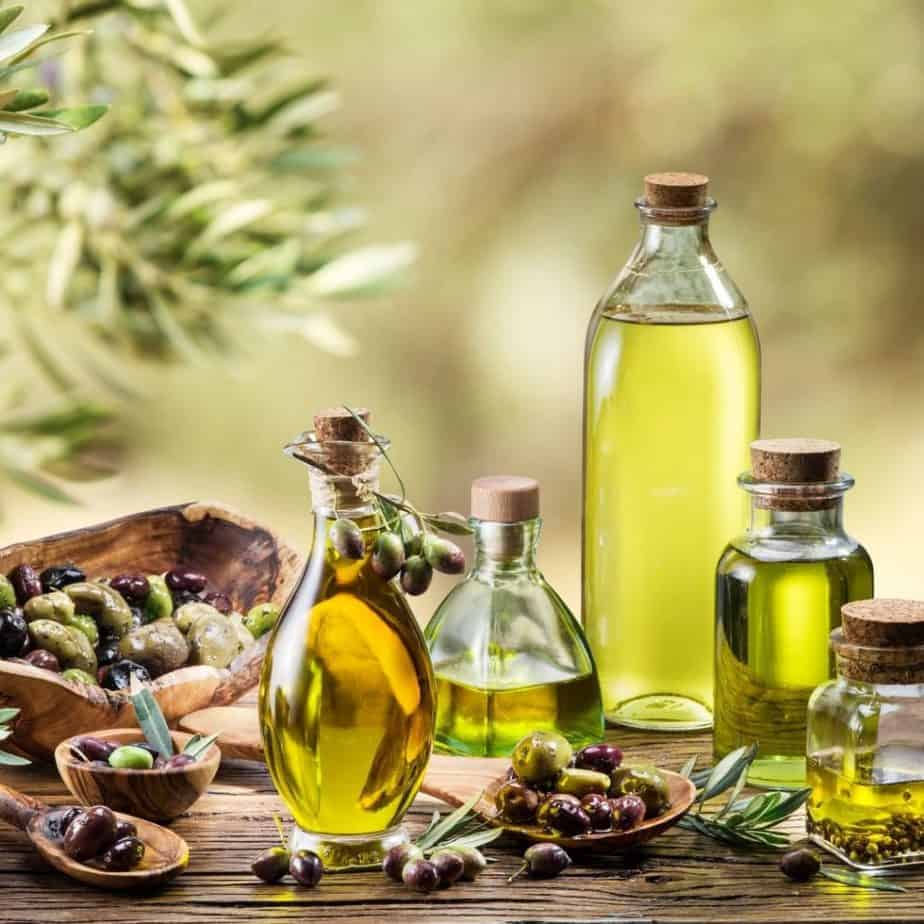 Olive oils considered to be the healthiest oil for thousands of years. It is commonly used and convenient for cooking because it is accessible and affordable compared to below healthy oils. However, it has a low smoke point of (burning point) somewhere around 190–207°C (374–405°F) and should not be used for high-heat or deep-frying.
Out of the, there are three main types of olive oils which are: Extra Virgin, Virgin and Regular Olive Oil, Extra Virgin contains the most beneficial nutrients and minerals and has the lowest acidity which is no more than 0.8%. Whereas Virgin oil contains no more than 2% acidity and the Regular Olive oil extracted using high heat and some chemicals which further increases the acidity and reduces the beneficial nutrients and minerals.
Extra Virgin Olive oil has many health benefits; Has Strong Anti-Inflammatory Properties and Antioxidants, it promotes liver health by improving liver enzymes, less fat accumulation in the liver and improves insulin sensitivity.[14]
2) Virgin Coconut Oil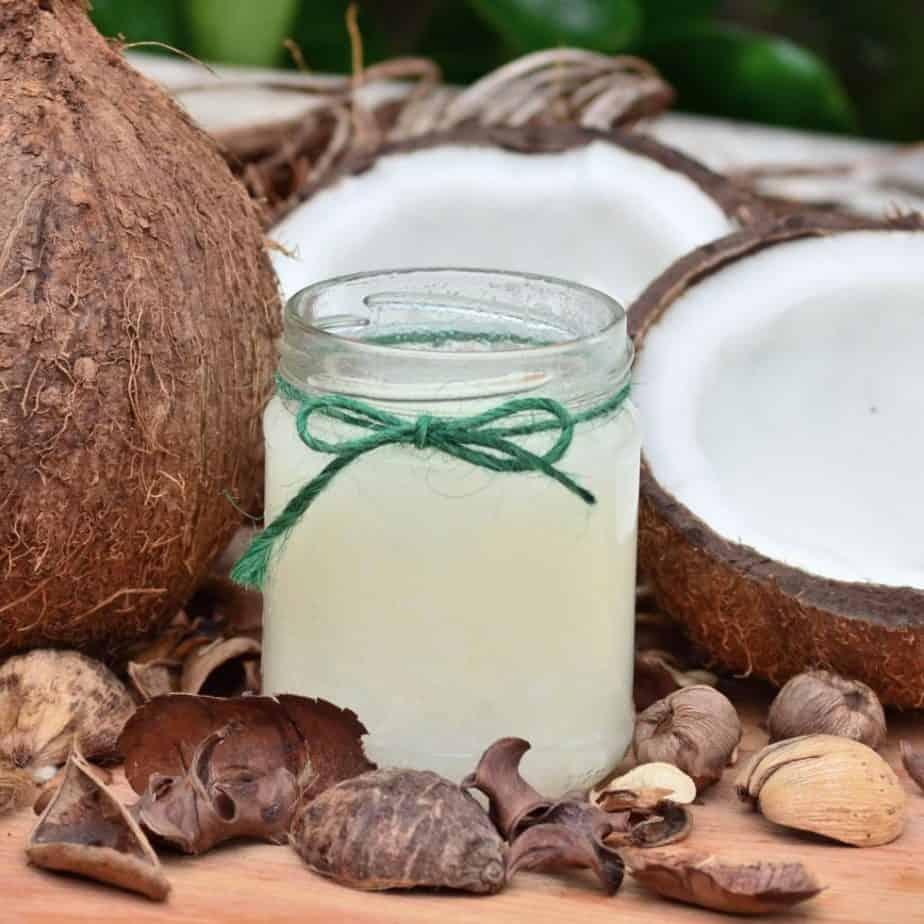 Coconut oil can withstand higher cooking temperatures, if refined about 204 °C (400 °F) and if virgin oil about 177 °C (350 °F) before it reaches its smoke point and it is suitable for frying foods. It is well known and continuously gaining popularity because of its proven health benefits and used not only for cooking and salads but also as a skincare product. It moisturizes and reduces inflammation in psoriasis, helps to control candida overgrowth, helps heal wounds and protect the skin from harmful bacteria.
Although coconut oil labels may say Extra Virgin or Virgin, there is no difference between them but the label itself. Both mean the same thing, unrefined and typically cold-pressed from fresh coconut meat by mechanical or natural means. Refined coconut oil means that it has been extracted from dried coconut meat or copra using heat and processed to remove the coconut smell and taste.
Coconut oil is about 50% medium-chain saturated fatty acid called Lauric acid, which is found in Mother's Milk, and its health benefits are well documented and truly powerful. Because of its high lauric acid content, coconut oil has antiviral, antifungal, antiprotozoal, antibacterial activity and also can enhance the immune system.[15]
3) Avocado Oil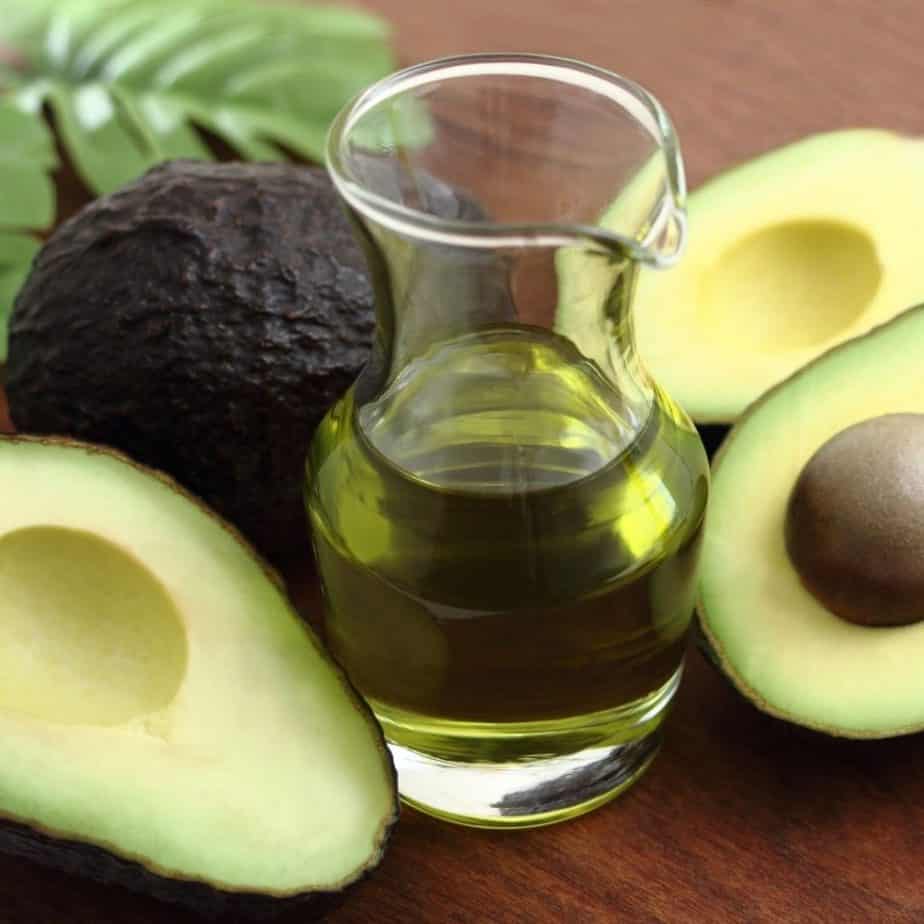 Lastly, Avocado oil. Avocados are uniquely high in healthy fats and Avocado oil is gaining popularity as the healthiest oil for all types of cooking, salads and even as a beauty product. Among the three, avocado oil can withstand the highest cooking temperature up to 270 °C (520 °F) and can be good for any type of cooking from sautéing to deep-frying.
Along with many other distinct nutritional differences, extra virgin avocado oil is the only grade of avocado oil that contains significant amounts of the antioxidant vitamin E. Like extra virgin olive oil, cold-pressed avocado oil is unrefined and so retains the flavour and colour characteristics of the fruit flesh. Other types such as virgin, pure (means refined) and blends are usually extracted at higher temperatures with additional processes using mild chemicals solvents.
A study in 13 healthy adults with a habitual hypercaloric and hyperlipidic diet, where butter was replaced by avocado oil. The incorporation of avocado oil for a period of six days reflected an improvement in the postprandial profile of insulin, glycemia, total cholesterol, low-density lipoproteins, triglycerides, and inflammatory parameters, such as C-reactive protein and interleukin-6. Avocado pulp oil has shown anti-inflammatory activity by inhibiting the enzymes COX 1 and COX 2 in a similar way to the drug, ibuprofen, and extra virgin olive oil. Additionally, when avocado oil was added to vitamin B12 skin cream preparation, it was well tolerated and had the potential for long-term topical therapy of psoriasis.[16]
You can also watch this video about best and worst oils.
Disclaimer: Dear reader, any and all the content on OffPsoriasis.com Is created for informational purposes only. The content is not intended to be a substitute for professional medical advice, diagnosis, or treatment. Always seek the advice of your physician or another qualified health provider with any questions you may have regarding a medical condition. Never disregard professional medical advice or delay in seeking it because of something you have read on this Website.
References
[1] Cahill LE, Pan A, Chiuve SE, et al. Fried-food consumption and risk of type 2 diabetes and coronary artery disease: a prospective study in 2 cohorts of US women and men. Am J Clin Nutr. 2014;100(2):667-675. doi:10.3945/ajcn.114.084129
[2] Narayanankutty A, Manalil JJ, Suseela IM, et al. Deep fried edible oils disturb hepatic redox equilibrium and heightens lipotoxicity and hepatosteatosis in male Wistar rats. Hum Exp Toxicol. 2017;36(9):919-930. doi:10.1177/0960327116674530
[3] Stott-Miller M, Neuhouser ML, Stanford JL. Consumption of deep-fried foods and risk of prostate cancer. Prostate. 2013 Jun;73(9):960-9. doi: 10.1002/pros.22643. Epub 2013 Jan 17. PMID: 23335051; PMCID: PMC3756514.
[4] BMJ. "Fried food intake linked to heightened serious heart disease and stroke risk: Risk rises with each additional weekly 114 g serving, pooled data analysis shows." ScienceDaily. ScienceDaily, 18 January 2021. <www.sciencedaily.com/releases/2021/01/210118225721.htm>.
[5] Guallar-Castillón P, Rodríguez-Artalejo F, Fornés NS, et al. Intake of fried foods is associated with obesity in the cohort of Spanish adults from the European Prospective Investigation into Cancer and Nutrition. Am J Clin Nutr. 2007;86(1):198-205. doi:10.1093/ajcn/86.1.198.
[6] Conlon MA, Bird AR. The impact of diet and lifestyle on gut microbiota and human health. Nutrients. 2014 Dec 24;7(1):17-44. doi: 10.3390/nu7010017. PMID: 25545101; PMCID: PMC4303825.
[7] Wojtas, Natalia et al. "Evaluation of Qualitative Dietary Protocol (Diet4Hashi) Application in Dietary Counseling in Hashimoto Thyroiditis: Study Protocol of a Randomized Controlled Trial." International journal of environmental research and public health vol. 16,23 4841. 2 Dec. 2019, doi:10.3390/ijerph16234841
[8] Park Y, Kim D, Lee JS, Kim YN, Jeong YK, Lee KG, Choi D. Association between diet and gallstones of cholesterol and pigment among patients with cholecystectomy: a case-control study in Korea. J Health Popul Nutr. 2017 Nov 23;36(1):39. doi: 10.1186/s41043-017-0116-y. PMID: 29169372; PMCID: PMC5701373.
[9] Yoshikawa E, Nishi D, Matsuoka YJ. Association between frequency of fried food consumption and resilience to depression in Japanese company workers: a cross-sectional study. Lipids Health Dis. 2016 Sep 15;15(1):156. doi: 10.1186/s12944-016-0331-3. PMID: 27633655; PMCID: PMC5025553.
[10] Manzel, Arndt et al. "Role of "Western diet" in inflammatory autoimmune diseases." Current Allergy and Asthma report vol. 14,1 (2014): 404. doi:10.1007/s11882-013-0404-6
[11] Tong, L X et al. "Personal history of gallstones and risk of incident psoriasis and psoriatic arthritis in U.S. women." The British journal of dermatology vol. 172,5 (2015): 1316-22. doi:10.1111/bjd.13463
[12] Song, Juhee et al. "Analysis of Trans Fat in Edible Oils with Cooking Process." Toxicological research vol. 31,3 (2015): 307-12. doi:10.5487/TR.2015.31.3.307
[13] Peng CY, Lan CH, Lin PC, Kuo YC. Effects of cooking method, cooking oil, and food type on aldehyde emissions in cooking oil fumes. J Hazard Mater. 2017;324(Pt B):160-167. doi:10.1016/j.jhazmat.2016.10.045
[14] Gorzynik-Debicka, Monika et al. "Potential Health Benefits of Olive Oil and Plant Polyphenols." International journal of molecular sciences vol. 19,3 686. 28 Feb. 2018, doi:10.3390/ijms19030686
[15] Widianingrum, Desy Cahya et al. "Antibacterial and immunomodulatory activities of virgin coconut oil (VCO) against Staphylococcus aureus." Heliyon vol. 5,10 e02612. 20 Oct. 2019, doi:10.1016/j.heliyon.2019.e02612
[16] Flores, Marcos et al. "Avocado Oil: Characteristics, Properties, and Applications." Molecules (Basel, Switzerland) vol. 24,11 2172. 10 Jun. 2019, doi:10.3390/molecules24112172