"Growing up with Psoriasis from a very young age has taught me that with time, things don't get easier, but if we choose to keep learning to be the best version of our selves, facing life gets little more bearable and even joyful. I choose to see things from a positive perspective, and with a positive attitude and with time I learned that Psoriasis doesn't have to be a burden, it can be a privilege" Chiara.
Chiara, Please tell us about yourself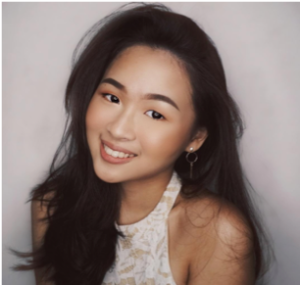 My name is Chiara Lionel Salim, a 21 years old girl born in Jakarta, Indonesia. A warrior of Psoriasis and Psoriasis-Arthritis since 2008. A survivor of Transverse Myelitis (2012). Pursued a degree in Computer Science at Monash University and happily working as a data analyst.
Has a hobby in using her face as a canvas aka has a deep passion for Makeup. An introvert who loves reading, especially romance. A girl who sometimes find it hard to leave her comfort zone yet always wanna travel to see the colors of the world. An optimistic girl who's just trying to find her place and purpose in this world.
What type of psoriasis are you diagnosed with?
I was diagnosed with Plaque Psoriasis on the major part of my body. I also have nail and scalp Psoriasis. Only in recent years, I started developing symptoms of Psoriatic Arthritis.
Since how many years?
Since 2008, when I was 9 years old. So, that makes it 11 years.
As per your diagnosis, how severe was it and which areas of your body were affected?
My whole body was affected, including nails, private area, ears, lips, and scalp. So, it was severe since the beginning.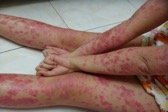 How did you first find out?  
It began with just a small injury on my leg that went away but kept coming back. My pediatrician thought it was an infection, he referred me to a dermatologist. Throughout, I kept trying different kinds of cream to treat it until the patches got bigger and spreading quite quickly.
Then, my parents thought of Psoriasis, because my uncle has it.

I went to another dermatologist that is known for psoriasis in my city, and he asked me to do a biopsy to confirm if it really is Psoriasis or Eczema. As a kid, the word biopsy scared me. My grandma asked my parents to bring me to Singapore for another check-up. By that time, it was covering most of my body. I also joined a national event which had me pretty much exhausted every day from the rehearsals. This made my Psoriasis flared up even more. I went to 2 dermatologists in Singapore who both confirmed it is indeed Psoriasis.
How did you feel about it at the time?
I was just 9 years old. I'm not so sure how I actually felt at that time. But I understood and kept track of what medications I was on and what I needed to use. I would remember every cream and what's their differences and their use. But one thing I always remember people saying, I was still a cheerful kid despite it all.
How did it affect your lifestyle?
When I was in school, there wasn't much I could do to cover it up when it was all over my body. I would always try to pull my socks as high as they could go and always wore jackets even though I was under the hot sun. I avoided sports and activities that would wear me out so much. Every morning and afternoon, I would need to put on thick moisturizers and ointment for each of the patches I had, which was a lot.
Growing up, I became more conscious of my appearance. When I wasn't feeling it, I would skip birthday parties or plans that I made to hang out with friends. I skipped pool days with my friends because I can't wear a bathing suit and the chemicals in the pool are bad for the skin. All my friends and teachers knew though, my parents and I told them from the very start. But regardless, I still had deep doubts and insecurities about how I look. I was stuck in my own head with the thought that no one could accept me with my skin looking as ugly as this.
How did you overcome the fear and stress of being affected?
I have always been one to open up to my close friends, so that's what I did. I told them every sorrow and breakdowns I had. I told them the pain I was going through. It really helps in coping, having supportive people around you. As time goes by, I also realized that the people around me truly doesn't mind my psoriasis. It gives me a boost of confidence and a sense of comfort being around them.
There were, and still are, a lot of breakdowns, nights where I bawled my eyes out. I let out all the pent up emotions and feelings. But I would always remember that things are going to be okay, even if it wasn't at the moment. I would always know that tomorrow is a new day and I will continue fighting and live my life. Just that at this moment, I let myself to not be okay. Take a break once in a while. It definitely helps to cope.
How do you feel now?
Compared to years ago, I can say I am in a better place physically and mentally. I am more accepting and aware of what's going on and what I can do for myself and my body. I feel grateful for all the ups and downs, for it has shaped me into who I am today.
I stopped questioning why me a long time ago. I stopped being mad at the universe for giving me this a long time ago. Because meanwhile it sucks coping up with the ugliness of it, it taught me so many valuable lessons in life, it allows me to meet amazing people, it brought me kindness and love, and it gives me the purpose to give back that same love & kindness to others who need it. Psoriasis is not a burden, it's a privilege.
Growing up from a little kid until now a full time working adult with Psoriasis has taught me that with time, things don't get easier; but with time, if we choose to keep learning in order to survive and be better, facing life gets a little more bearable.
Being, accepting, and loving myself is a lifelong learning process that I need and very willing to get through. My journey is still a very long road ahead, and I intend to make it worthwhile; to leave the world a better place than once I found it.
What triggers your psoriasis flare-ups?
What I have noticed over the years, my biggest trigger is stress. Then, exhaustion and being sick (infection). On food perspectives, I am honestly still exploring it myself. I am still trying to find out which food triggers my flare-ups.
What medications have you tried and what helped you and what didn't?
Topical Creams (Daivobet, Daivonex, Protopic, Efficort, Elomet/Elocon, Dermavote) – they're steroid creams, duh, of course, they work.
MTX – gives me really bad nausea, and did not work for my psoriasis
Cyclosporine – works really good for my psoriasis, gives me remission for a few times, but once I stopped, my psoriasis came back.
Phototherapy – works for a while but slowly, as the dose increased, my body heat can't take it anymore. My skin was always hot and itchy.
Stem Cell – it backfired on me. I flared up really badly to the point I can only stay in bed for one whole week. They suspect it clashed with the cyclosporine I consumed just before starting the stem cell.
Chinese herbs and other herbal stuff – never really stick with it, so, if it actually works, I wouldn't know.
Acupuncture – truly helps for joint pain!
Humira – worked really well. I see improvement as fast as 2 weeks. Reached remission from 90% covered in 3 months. You can read a detailed review here on my personal blog
Cosentyx – currently trying it out. on my 3rd shot (3 weeks), and I have seen 25% progress
What home remedies have you tried and what works the best for you?
Seawater
Epsom salt bath – bathe in it for 20 mins and gently exfoliate your scales
Thick moisturizers – 2 times a day! don't let your skin dry!
Wrapping up in plastics after putting on ointment to lock them in and make sure they don't move
Coal tar
Sunbathe – get that UVB after 10 am, at least 10-15 mins!
Note: This is a personal experience and not medical advice, all of these worked for me, consult your doctor for any medical advice!
Did you have "totally cleared" remission period and for how long?
Throughout, I only had a very brief remission before they started to come back again. However, mid-2017 – early 2019, I was in remission thanks to Humira. You can read more on my Humira journey on my personal blog.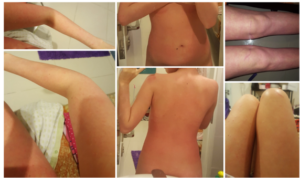 What helps you the most?
Relaxed mind and biologics. But I  strongly believe that a healthy lifestyle will benefit us tremendously if we really commit to it. I am still struggling with fully committing to it.
To stay stress-free – I do things that relax me, that I enjoy, hang out with friends, read books, meditate.
To stay motivated – I read motivational books. I say give yourself time to rest, don't push yourself until you get burnout, surround yourself with positive vibes.
What is your daily routine like?
Just started my working life, Monday – Friday filled with working in an office. Every morning I drink one glass of lemon water followed by green juice to help alkalize and detoxing my body. I used moisturizer two times a day. Try to fit vegetables and fruits as much as I can in my meals and avoid fried, dairy, red meat, and nightshades. On alternating days, I would bath in Epsom salt and gently exfoliate my skin to help remove the scales and shampoo with TGel Coal Tar to help for the scalp. I also try to drink at least 2L a day and get enough rest every night.
What is your advice to those who are newly diagnosed?
I would say that it's okay to feel whatever you feel right now, being mad, sad, scared. Just feel all those feelings. When you are ready to get back up, go seek help, find someone to talk to, learn more about your condition and how to treat it. Find a community, surround yourself with people who will love you and support you through.
Be kind, to yourself always. Be here for yourself without any judgment. Learn to love yourself unconditionally. It will be hard, but it is a lifelong process and quitting won't speed it up. Take one day at a time.
Remember you are not alone, and you got this!
Oh, and sunscreen people!! DO NOT GET SUNBURN. The sun is can be your best
friend but can also be your enemyyy. Here's a pic of my shoulders who got sunburn and all turn into deep-fried Psoriasis LMAO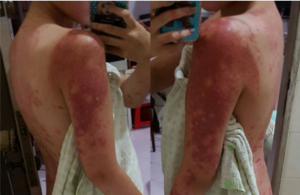 What would you say to those who have someone close to them diagnosed with psoriasis?
It's hard enough on them so don't push them too hard to open up or to try something new. Just be there, letting them know that you are here for them.
Sometimes, what they need is more of emotional support rather than physical. They are having a hard time accepting and loving themselves, show them that they deserve to be accepted and loved for exactly who they are.
What is Chiara's motto in life?
Leave the world a better place than you found it.
 Got this quote from my sister and it has stuck with me since. It resonates with what I have been trying and always want to do in my life, to make a positive impact on anyone's life; even if it's just one person, and the world if I could. Psoriasis, as much as it sucks, helps me do that.
Chiara Lionel Salim
Feel free to ask questions and give her support in the comment section below! To find out more about Chiara follow her on Social Media accounts.
Instagram: @chichilionel
Email: chiaralionel.salim@gmail.com
LinkedIn: https://www.linkedin.com/in/chiaralionelsalim/
Personal Blog: chiaralionels.wordpress.com