.
August is Psoriasis Awareness Month, and in this important month, we are on a mission to spread awareness together with Psoriasis Warriors who are keen to help those searching for answers and support.
Meet Aimee Grace Godden, she is beautiful, strong and ambitious, she is an inspiring Psoriasis Warrior.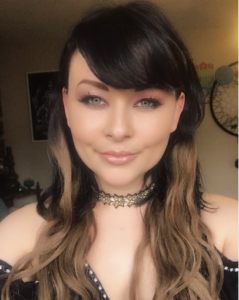 Aimee, Please tell us about your self?
Hi, I'm Aimee Grace, I'm 33 years old and I'm from the U.K. My full-time job is a fashion retail manager, but I also run my own art business paint murals and crafting, as well as supporting body positive campaigns.
What type of psoriasis are you diagnosed with and since how long?
I was first diagnosed with plaque psoriasis when I was roughly 14 years old.
Which areas of your body were affected?
This affects mainly my scalp, elbows, and nails. Even back then, those small patches were hard to manage and hard to come to terms with.
How did you first find out?
I was at school and going through later stages of puberty at the age of 14 when I discovered plaque psoriasis, and I remember thinking why me?! Then in 2018 after contracting tonsillitis, I started seeing small dry, itchy patches appear over my face and body. I was initially diagnosed wrongly with chickenpox but after 2 weeks when the spots grew bigger and spread further, I was diagnosed with a severe case of guttate and told there wasn't much that could be done. I'd have to wait it out and see if it healed itself! There wasn't a part of my body not affected.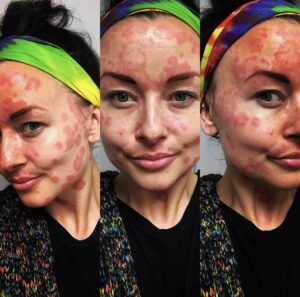 How did you feel about it at the time?
I was absolutely devastated. The first few weeks were the toughest.
How did you overcome the fear and stress of being affected?
I decided I could not cope alone, so I stayed at my mum's for 2-3 weeks. I slept in the day bed alongside my mum's bed and every morning we went through the same routine. She would wake up before me and be ready and waiting for me to wake because waking up every morning was the hardest part. When I would wake, take in my surroundings and see my mums face I would remember what I looked like and burst into uncontrollable tears. It must have been so hard for my poor mum seeing me this way. Fortunately, my mum was an amazing support and it didn't take long for me to embrace and accept how I looked, I made myself go back to work and posted photos on social media. It was tough at first because I had a small backlash and some online trolling but the positivity and kindness totally outweighed any negativity. And I soon realized sharing my story helped others which in turn help me to get stronger.
How do you feel now?
Now I just feel empowered! I feel happy that we have a wonderful, caring community so we do not feel alone, and I feel proud of myself for picking myself up from a dark place and learning to love myself and life.
What triggers your psoriasis flare-ups?
I'm still not completely aware of what triggers my psoriasis. I know virus's do and I notice flare-ups during stressful life changes. In terms of diet, I've tried all sorts but it takes time to understand what does and doesn't work for you.
What medications have you tried and what helped you and what didn't?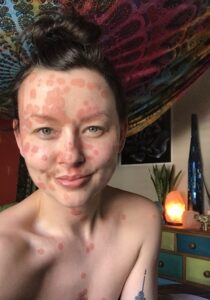 I have tried so many different creams, ointments, oils for my psoriasis. Many with steroids in. I think so many I could not name them all. Betnovate, Dovobet, Sebco to name a couple. None of them cure psoriasis but in their defense, they do help to manage it. The best treatment I've had is light/phototherapy treatment. It's a big commitment. Going 3 times a week for 3 months but it was totally worth it, the results were amazing.
What home remedies have you tried and what works the best for you?
The best home remedy for me is coconut oil. I swear by it! Again it's not the cure but it helped my hair regrowth, and kept my skin flake-free, and stopped itching. Plus it smells great! The only downside is, it is very greasy to use.
Did you have "totally cleared" remission period and for how long? 
Last year after my light therapy treatment I went into full remission. I'm still 80% clear, but psoriasis has returned in the obvious places. Backs of knees, armpits, inner thighs, scalp, ears, and a few patches on my back.
What helps you the most to stay stress-free and motivated?
What helps me the most is trying to stay stress-free and be happy, trying to keep my mental health in check is so important. If I feel angry or sad I try to replace that feeling with gratitude and appreciation for what I do have. It's not easy but it helps.
What is your daily routine like?
My daily routine is to get a good sleep! 8 hours at least, I'm very lucky that I sleep well. I wake early at 7 am the latest. Drink water and a cup of tea. I work nearly every day each week so I ensure I take breaks when I need and keep hydrated. I aim to do at least one kind and unrewarding thing each day for someone else (sounds strange but it makes you feel amazing and happy) and in the evening if I'm not busy with friends or family, I take time to myself (and my dog) and I Create or paint, if not for a commission, I do it for myself. My art is my therapy. This routine makes me happy and keeps me relaxed and calm.
What is your advice to those who are newly diagnosed?
My advice to those who are newly diagnosed isn't easy….try not to hide, it's so easy to hide your self away, however, the sooner you accept it, the sooner you get to try and live a normal life and psoriasis does not overtake you but becomes just another unique (but uncomfortable) part of you.  Embrace yourself, love yourself and remember the only person destroying you is you. If you love you, others will love you, warts and all!  And for your health, find something you love!  A hobby that helps you switch off, whether it be art, craft, music, gym, volunteer work, gardening….the list is endless!  Before my art, I struggled with my mental health, but art was a big part of my healing process. Now it's part of my everyday life! And Lastly…keep it moisturized!! Psoriasis doesn't need to look white and flaky, this is when it's not being managed well. Look after your skin. Coconut oil is fab but must be used frequently on flaky patches to prevent build up.
What would you say to those who have someone close to them diagnosed with psoriasis?
If you know someone with psoriasis please be more understanding, it's not just dry skin like many people think. It's an autoimmune disease and affects people in different ways, I suffered chronic fatigue last year and weight and hair loss. But mostly it can affect mental health. Please be supportive and do a little research it can go along way.
What is Aimee's motto in life?
My motto in life is Live Laugh Love! I know you've all heard it before but I had this saying tattooed on my back in my mid 20's after a tough time and break up and since then it's also featured on my CV as my opening statement about myself. I can honestly say I live by all three words…I live a full life, I laugh often if not most of the time, and I love, not just friends and family but all the amazing people who support me on social media and have been with me all the way through this journey.
Aimee Grace Godden
Gracefully Boho Designs
Artist and Body Positive Campaigner
Feel free to ask questions and give her support in the comment section below!
Find out more about Aimee Aimeegracey212 and check out her artwork via her Instagram account @gracefullyboho