Hi Leanne, Please tell us about your and your Journey with Psoriasis.
I am 53, an Education Assistant for an elementary school. I do not lead a stressful life. I had beautiful skin. I became very ill in December 2019; I swear I have had covid already, I also had to go on a 3-week stint of antibiotics. It was after that I noticed a few patches around my eyes, and gradually the spots spread, arms, legs, belly, back, and breasts.
I didn't know what was happening to me and neither did my Dr. I was diagnosed by biopsy June 2020 with a "form" of psoriasis ?‍♂️ that made it harder for me to treat as well.
Let's talk about Food
My naturopath put me on probiotic and a new diet; Avoid gluten, dairy, sugar, nightshade, and also did an allergy test and avoid those items too.
This was a drastic change for me, and I'm still adapting. I avoid gluten and feel it affects my psoriasis, especially around my eyes.
As for breakfast, I sometimes do not eat.
I have made gluten-free biscuits, gluten-free toast, pancakes, waffles, hard to resist bacon and sausage every now and then. Make batches ahead of time, so it's easier. I enjoy Organic, gluten-free cereals with almond or oat milk. Recently added reds and green smoothies to my diet.
What triggers your Psoriasis?
Triggers for me is alcohol, not enough moisture on my skin, not getting enough sunshine. It truly helps me heal.
How do you manage your Psoriasis?
I use an organic eczema salve around my eyes, vitamin-E cream on my face, Cerave cream on my body, calendula oil on my body, zinc cream for very sore spots. Tea tree oil dries up the spots too. Supplements like; E, K2, D 3, b12, C, hair, skin & nails, omegas.
What would you tell those who are newly diagnosed?
Being pretty newly diagnosed and not knowing what type I have, I would love more support and ideas for natural healing. It's from the inside out, and I genuinely believe I can heal, it's just when… in the meantime, stay positive and live your life the best you can.
I believe in spirituality, meditation and manifestation…. the universe plays a part too, it has your back ??

Leanne Rush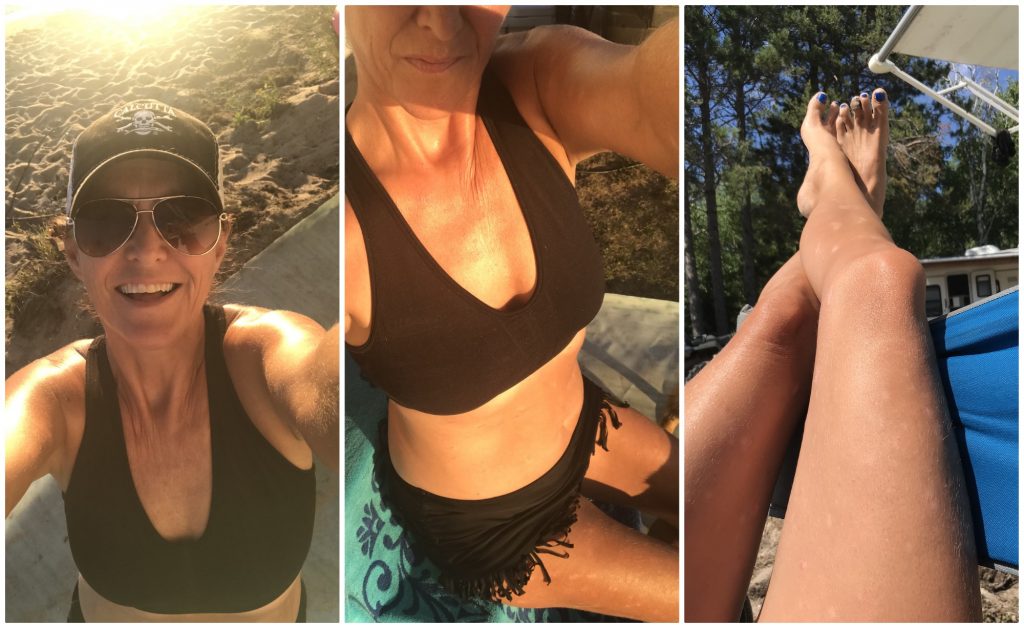 Find out more about Leanne's journey on her account on Instagram @missleanne67