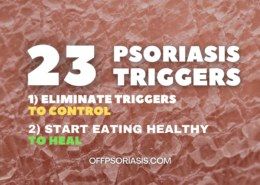 23 Triggers of Psoriasis page is created to help you recognize your triggers and heal your psoriasis via awareness.
We noticed that this is the most asked question, "What triggers psoriasis, and answer is different for everyone, therefore, answer is always different on different sources and never complete.
Here we have gathered all triggers on to one page to make it easier for you to establish your trigger.
This is a platform for you! So if you feel like sharing your trigger or experience, feel free to participate.
With Love and Care
OffPsoriasis Team