She is a kind-hearted Carer and a Photography Enthusiast – Emma shares her Psoriasis Story
"I feel inspired to share my story with others to help them as they've helped me. I wasn't aware of the psoriasis community at first until I recently discovered it on Instagram. It really has opened my eyes to what others go through and has given me new confidence in myself and about my skin, knowing how many people have psoriasis and knowing the struggles we all go through together." Emma ❤️
Emma, Please tell us about yourself?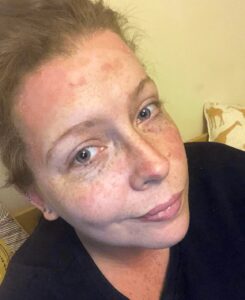 Hi, I'm Emma, I'm thirty years old and I'm from London, now living in Guildford. I'm a senior carer in a respite home for children and young people with physical disabilities and learning difficulties. I love photography too as a hobby, especially taking photos of nature and the outside world and hoping to broaden my areas of photography.
What type of psoriasis are you diagnosed with? Since how many years?
I had psoriasis before I even knew I had it. I've always had skin conditions. I had eczema as a child and have always had dry skin. I haven't actually been told what kind of psoriasis I have, just that I have it. It's been five years since I was officially diagnosed with psoriasis.
As per your diagnosis, how severe was it and which areas of your body were affected?
At first, my scalp and hairline were affected but that soon spread to multiple areas of my body. When I was officially diagnosed with psoriasis, it mainly affected my scalp, hairline, my arms and a small area of my back. Since then, it has spread further, now appearing on my scalp, hairline, neck, behind my ears, ears, my forehead, eyebrows, eyelids, cheeks, the end of my nose, under my breasts, my torso, sides and tummy, my back, arms, legs and armpits- I never thought I would see it appear there.
The severity of my flare-ups can vary. I often have large white patches on my arms and they can turn into red, sometimes raw areas which crack and bleed, which can be very sore. In other areas such as my back and face, my psoriasis appears pink and red, sometimes flakey, my eyelids can be especially sore.
How did you first find out?
I first found out that I had psoriasis when I went to the doctors for something else regarding my skin. As I said before, I've always had dry skin and I went because my arms were getting really sore. I was told I had a skin condition (I can't remember the name) and that it would only go with age. I was then told I had psoriasis, and that this was a lifetime condition with no cure.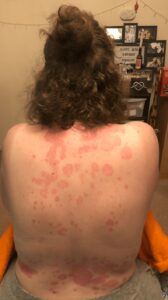 How did you feel about it at the time?
When I was told, I put a brave face on to the doctor, I didn't really understand what I had been told, especially as I had never heard of psoriasis before. As soon as I left, I called my mum and burst into tears. Hoping I would be told my skin would get better I was told the opposite.
How did it affect your lifestyle and work?
It affected my lifestyle because I was more conscious of my skin, what I would wear, what I would do, activities I would join in on. I was worried about what other people thought of me and my skin, how they perceived me, not only by people I knew but also members of the public. I was more aware of people looking at psoriasis than at me. This then led to difficulty interacting with new people, because in my head I thought the psoriasis was all they could see. I would rarely go out without makeup on, covering flare-ups I would have on my face.
My psoriasis affected me at work, again for similar reasons- I would be very conscious of covering it up, especially my arms. When I didn't, I would get asked by parents and work colleagues about it, some of the children were bothered by it, I think they were more concerned about me because of how sore it looked.
How is the climate in the region you live and how does it affect your psoriasis?
I live in the UK so the weather is always unpredictable. I have found that my psoriasis reacts better when it's sunny, so whenever the sun is out I'm out. I also find it gets worse in the winter because of the cold weather and the heating always being on.
How did you overcome the fear and stress of being affected?
It's a working progress and something I battle with daily. I'm trying my best to learn to love the skin I'm in and take it all in my stride. Psoriasis is nothing to fear and I'm getting to grips with that now.
How do you feel now?
I feel inspired to share my story with others to help them as they've helped me. I wasn't aware of the psoriasis community at first until I recently discovered it on Instagram. It really has opened my eyes to what others go through and has given me new confidence in myself and about my skin, knowing how many people have psoriasis and knowing the struggles we all go through together.
Of course, I'll always have flare-ups, some are more severe than others but I'm learning to embrace it. I'm learning to love the skin I'm in and be proud of it, not covering up as much as I used to, showing it to others to help raise awareness of psoriasis. I'm learning ways to manage it and try and keep on top of it.
What triggers your psoriasis flare-ups?
Trauma in the past was my main trigger for my psoriasis to flare up. Stress is most definitely a trigger for my psoriasis now.
What medications have you tried and what helped you and what didn't?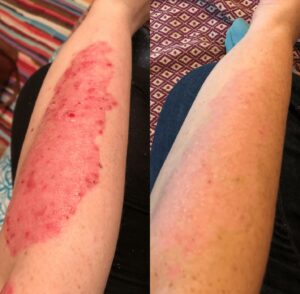 I've had countless moisturizers and creams over the years that I can't remember all of their names. However, I have found that Dovobet does make a difference. It may make my patches look angrier than they are when I first put it on, but then after a few days and applications, it does appear to settle and start to fade away.
I highly recommend UVB light therapy. I was prescribed this form of treatment after so many other attempts to manage my psoriasis, not really getting anywhere. It didn't take long before I saw and felt a difference in my skin and myself.
What home remedies have you tried and what works best for you?
In all honesty, I've not tried any home remedies. I'm open to any suggestions.
Did you have 'totally cleared' remission period and how long for?
Unfortunately, I haven't had any remission period yet.
What helps the most to stay stress-free and motivated?
I find trying to keep relaxed and stress-free as much as possible helps, although that's easier said than done at times. I make sure I have downtime and do things that I enjoy- resting, going out and taking photos, going out for walks, being in the sunshine, seeing my friends and talking to my mum. More recently, I have found that being part of a psoriasis community really has helped me and keeps me motivated.
What is your daily routine like?
My current daily routine is different from the norm as I am dealing with other health issues. These issues have meant that I am taking medication which is preventing me from having my UVB light treatment which I was having twice a week. That said, in the meantime, I'm trying to manage my psoriasis by applying Dovobet and moisturizer daily.
What is your advice to those who are newly diagnosed?
My advice to others would be to research your psoriasis, and what treatment is available to you. I also recommend talking to family and friends about it so they have an understanding of how you are feeling and what they could do to help you. I recommend finding psoriasis support groups and communities so you know that you are not alone.
Also, embrace your psoriasis, it's taken me a long time to get to where I am now but with the support, I now know is out there, you can too. By finding support groups, I've been able to learn a lot more about myself and others with psoriasis. Love the skin you're in, be yourself, and love the person you are inside. You've got this ❤️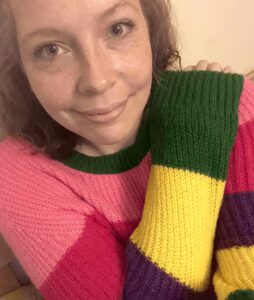 What would you say to those who have someone close to them diagnosed with psoriasis?
I would say be there for them, listen to them and support them. I would also say try and understand more, do some research into psoriasis. It's okay to ask questions, I'd rather someone ask me a question about my psoriasis than make assumptions.
Psoriasis is an autoimmune disease and is not contagious.
What is Emma's motto in life?
I have a few, but my favorite mottos in life are 'Everything Happens for a Reason' and 'Be True to Yourself'.
Emma ❤️
Feel free to ask questions and give her support in the comment section below!
Find out more about Emma here @EmmaBroatch
and check out her Instagram account @ee.bphotography