Psoriasis affects each person differently, when the symptoms are not severe, Psoriasis often gets confused with other conditions which might be temporary, such as rash or allergy and in case of Desirèe – a beautiful young mother who also suffers from psoriasis since childhood, she was always told she just have bad dandruff. We wanted to know more about her symptoms and how it happened that, even though she had Psoriasis since she was a child, she was diagnosed only 3 years back.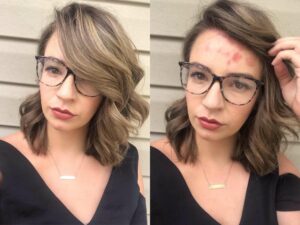 Desirèe, please tell us more about you? 
Hello! My name is Desirèe. I am 26 years young. I have been married to the love of my life just shy of 4 years and am a new mom to a beautiful baby girl.
What type of psoriasis are you diagnosed with?
Since how many years?
I have had it all my life but was just recently diagnosed in the last 3 years.
Why you didn't go to a doctor earlier, what made you decide to go to a Doctor at last? 
As a kid, I was always told it was just dandruff. It wasn't that bad at first, but by the time I got to high school, it was all over my scalp and from then on it has just kept getting a little more severe year by year. Later its spread to my face, when people have busy schedules and when a condition looks like it might pass, we often ignore or put it on the back burner. Once I started getting patches on my face and saw the severity it could get to without proper attention I immediately made an appointment with a dermatologist.
As per your diagnosis, how severe was it and which areas of your body were affected?
At the time I had it on my entire scalp and a spot or two on my forehead. Now, it is in those same spots including more on my forehead as well as behind/in my ears, and a patch both on my stomach and back.
How did you first find out?
Honestly, I always knew I had something other than "dandruff"
How did you feel about it at the time?
As a child, it always bugged me because it was itchy. Actually, I was constantly paranoid that I had lice because how could "dandruff" be that itchy!?!?  Once I got to high school it really started to bug me because I constantly had to wipe off my clothing do to the flakes. When it spread to my face, I was pretty stressed.
How did it affect your lifestyle?
At the time I was not confident enough to be okay with just going out in my natural skin. I always felt the need to cover it and it does get old when you feel you can't do or go anywhere without a full face of makeup or another way to cover the Psoriasis.
How did you overcome the fear and stress of being affected?
Recently, I started going natural when we have spent time with family. It is easier to show your true self to loved ones. People said things every once in a while, but I would educate them and then we moved on. A few days ago, I decided to post a picture on social media of the Psoriasis on my face and the support from everyone, including complete stranger, was completely overwhelming!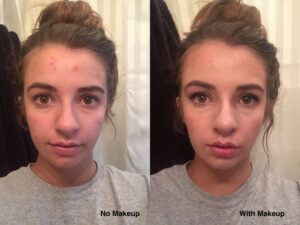 How do you feel now?
If I'm being honest, I still am not completely confident enough to go out all day every day without covering a little bit. I am working up to this though, and isn't that all anyone can do? Continue to work on themselves day by day.
What triggers your psoriasis flare-ups?
Makeup, even higher quality seems to dry it out (total catch 22 when you want to cover it.. just to make it worse). Picking and I know it's the worst thing to do but I know I'm not alone in saying that sometimes it's impossible not to! Stress also seems to be a factor and the first two only add to this.
What medications have you tried and what helped you and what didn't?
I currently use a foam called Enstilar. I do believe it helps some.
What home remedies have you tried and what works the best for you?
Coconut oil and Vaseline seems to help so much! The sun is a great way to help clear it a bit, so the summer usually is a great time for me. I have tried random lotions, salts, and other crazy Pinterest DIY remedies but none seemed to work.
Did you have "totally cleared" remission period and for how long?
Unfortunately, I have never been in remission.
What helps you the most?
What is your daily routine like?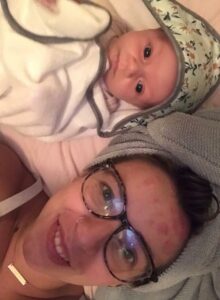 Is there even such a thing as a daily routine with a newborn!?!? If I do wear makeup I use foam wash and then moisturize before and do the same at night after a take it off. I also, always apply coconut oil for Vaseline before bed.
What is your advice to those who are newly diagnosed?
My advice would be not to get frustrated! There are plenty of options to help and support group to get ideas from! Despite the severity, you are not alone. Psoriasis is a part of you but it does not define you and make sure you tell yourself that anytime you are feeling down about it.
What would you say to those who have someone close to them diagnosed with psoriasis?
Nobody can help it if they have Psoriasis. Support that person any way you can. Sometimes just listening is the best thing you can do!
What is Desiree's motto in life?
I don't think I can pinpoint one motto for my whole life. There are so many things to consider in life! With this being said I do have a few guidelines try and live by:
•Speak what you want into existence!
•If you notice something good in someone, tell them. Always.
•Nothing is so big that God can't handle.
• Comparison is their of Joy.
We thank Desirèe for her commitment to helping others by sharing her experience!
Leave her a comment below and feel free to follow her Instagram account d.levering22